After School Program
Ochoa Community School collaborates with the John Valenzuela Youth Center (JVYC)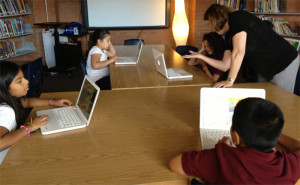 Ochoa is collaborating with its long-time partner, the John Valenzuela Youth Center (JVYC) ensuring that children can participate in the special programs that the Center provides. This program, FREE to Ochoa's children, is focused on supporting children's academic and social-emotional success through a wide range of enrichment classes such as chess, math games, readers' theatre, cooking, dance including Break-Dancing and hip hop, poetry club, sports and computers. "
University of Arizona Wildcats offer FREE academic tutoring afterschool at Ochoa!.
Ochoa Teachers offer FREE Academic Tutoring as well as Mandarin & Art classes. "We teach strategies that support children's developing skills in reading, writing and/or math providing a strong connection to grade level expectations."

Ochoa Teachers offer "Getting REAL" an after-school math program that is a research-based curriculum that was designed by the University of Arizona in collaboration with classroom teachers and researchers.an after-school math program
For information about enrolling in the John Valenzuela Youth Center, please contact Chuck Peralta, Ochoa's Community Liaison.